What an excellent way to start the year even if its the 5th month with the first trip to Santa Pod for Old Rattler our R56.
The car weighed in the other week at 2725lbs with me in it and on the first pass of the year run 13.5533 at 108.44 the next pass was a 13.6193 @ 103.77, then the 3rd pass was the 13.17, in the left lane was a stock GP2 with 3400 miles on it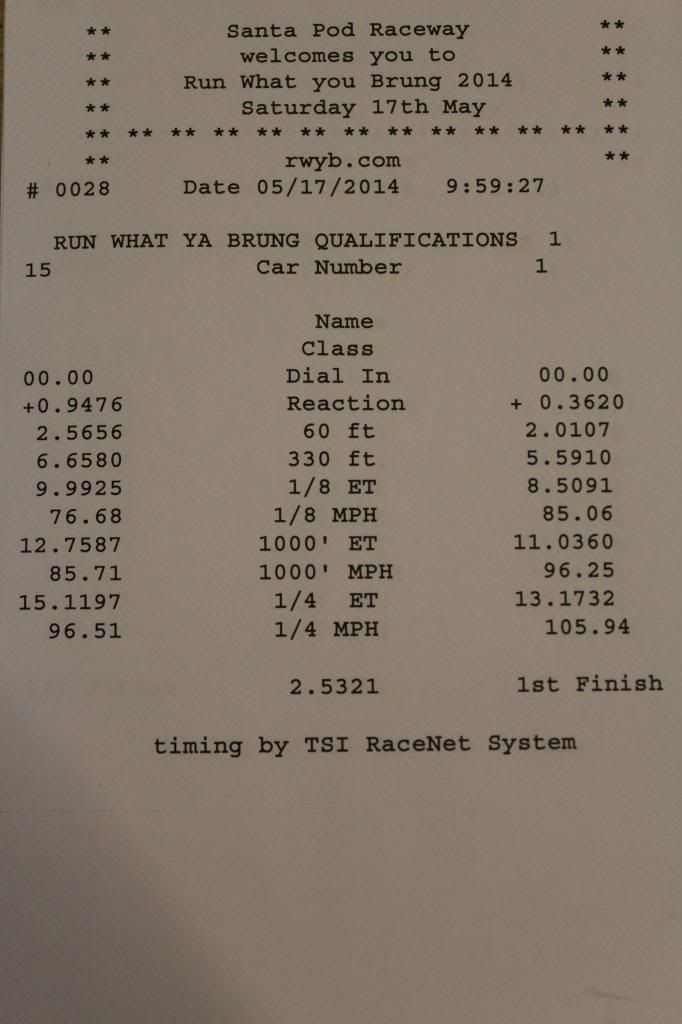 On Thursday it made 262 whp at 18psi and 276wtrq at 21psi
The current spec is;
Owens hybrid turbo
De -cat
Alta FMIC
Mahle Motorsport Pistons
ZRP conrods
Larger Cat Cams
JCW airbox
Custom tune by Manic MINI
Aquamist meth system
Howerton tank
Clutchmaster FX400
OEM LSD from R53
16 x 8 Rota Slipstreams
205 45 -16 Neutons
Cross coilovers
Hotchicks 25.5mm rear bar
It still has a stock head, stock cat back.
We have now become a dealer for the Manic tunes and will continue to develop this package in the UK with the goal of running a 12s on street tyres.
We dont seem to take a lot of pics of "Old rattler" I'm going to have to rectify that here's one for now ........
https://www.facebook.com/photo.php?f...type=3&theater